Experience a luxurious style of living at Eighteen Islamabad, the epitome of opulence and elegance. Situated in the heart of the city known for its natural beauty and modern infrastructure, Eighteen Islamabad offers a safe and excellent standard of living that will surpass your expectations. Whether you are seeking a lavish villa or a spacious apartment, Eighteen Islamabad has the perfect residential and commercial options to cater to your needs.
The Villas at Eighteen Islamabad are a symbol of grandeur and sophistication. These exquisitely furnished villas are designed with stylish, contemporary amenities that blend comfort, luxury, and sustainability. Immerse yourself in the architectural marvel and interior designs that are sure to leave you in awe. Experience a lifestyle like no other in these beautiful residential villas.
Eighteen Islamabad Redefining Luxury Living in Pakistan
If you prefer apartment living, The Heights at Eighteen Islamabad is the perfect choice for you. Offering a variety of options including studio flats and penthouses, The Heights boasts spacious balconies where you can unwind and enjoy breathtaking views. With over 28 pavilion-style apartment structures, each with a maximum height of seven floors, The Heights offers a modern and comfortable living experience.
For those looking for cutting-edge commercial infrastructure, look no further than The Core at Eighteen Islamabad. This futuristic commercial hub delivers the most advanced and high-tech facilities for businesses. Stay at the forefront of innovation and professionalism in this state-of-the-art commercial space.
Spread over an impressive area of 572 acres, Eighteen Islamabad harmoniously blends urban infrastructure with the natural beauty that surrounds it. The master plan, designed by renowned international architecture firms such as Callison RTKL and WATG, incorporates a stunning 18-hole golf course as its centerpiece. Imagine waking up to the breathtaking views and indulging in a round of golf right in your own backyard.
The meticulously planned residential units at Eighteen Islamabad are seamlessly connected to the five-star hotel, office buildings, shopping center, and other top-notch facilities through a network of wide roads and curved parkways. This ensures easy accessibility and convenience for residents and visitors alike.
As one of the most lucrative property markets in Islamabad, Eighteen has captured the attention of real estate investors and home buyers across the board. With its world-class amenities, elegant landscape, and sustainable living, Eighteen Islamabad is set to become one of the finest housing communities in Pakistan.
Prime Location and Map of Eighteen Islamabad
Located in the prime vicinity of New Islamabad International Airport, this prestigious housing society offers convenient access to the city's major areas and an impressive range of amenities. Discover the ideal location and map of Eighteen Islamabad, making it an exceptional choice for discerning residents.
–Strategic Location near New Islamabad International Airport
Eighteen Islamabad enjoys a premium location as the closest housing society to the New Islamabad International Airport. Situated in the 18th district of the Twin Cities on Kashmir Highway, this project offers unparalleled proximity to the airport, making travel hassle-free. With just a 30-minute drive through New Islamabad Airport Road, residents can easily reach their destinations.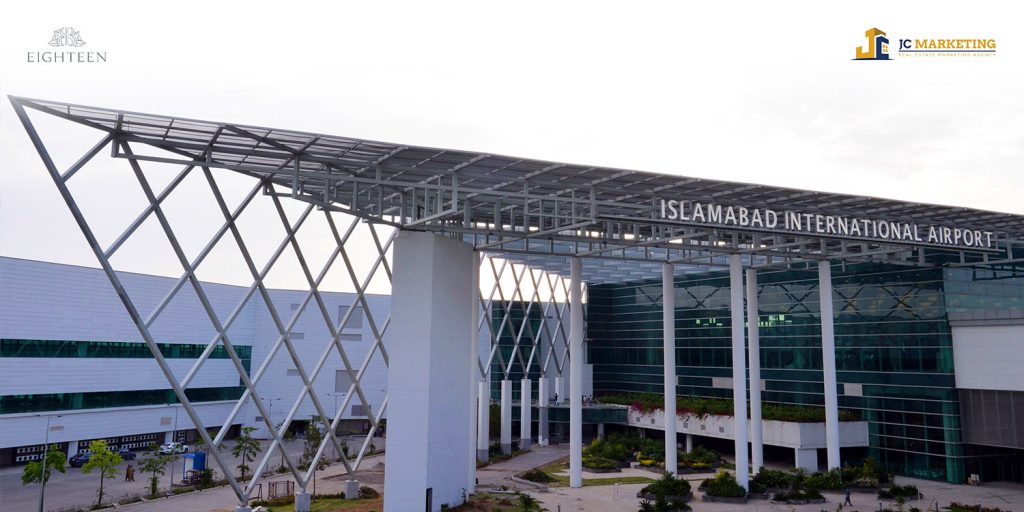 –Easy Access to Key Routes and Neighborhoods
The housing society's strategic location provides effortless connectivity to various important routes and neighboring areas. Residents can conveniently reach downtown Islamabad within a 20-minute drive via Kashmir Highway, Lahore-Islamabad Motorway, or Grand Trunk Road. Moreover, Supreme Court Cooperative Housing Society and Fazaia Housing Scheme are situated in the vicinity, while G-10 and G-11 Markaz are approximately 26 to 27 kilometers away.
–Proximity to Prominent Institutions and Facilities
Eighteen Islamabad ensures its residents have access to essential amenities and institutions within close proximity. The housing venture is just a 5-minute drive from the National University of Science and Technology (NUST) and Quaid-e-Azam International Hospital, offering convenience and quality healthcare. Additionally, University Town, Top City 1, and the M-2 Motorway Interchange are all within a 3-minute drive, further enhancing accessibility.
–Location Advantages and Travel Time Estimates
Take advantage of the location benefits provided by Eighteen Islamabad. Here are some travel time estimates to various destinations:
Islamabad-Lahore Motorway Interchange: Only a 3-minute drive away.
Islamabad International Airport: A mere 5-minute drive from the housing society.
Blue Area Islamabad: Reachable within 25 minutes by car, ensuring access to the city's commercial hub.
Eighteen Islamabad's prime location near the New Islamabad International Airport and its accessibility to major routes and neighboring areas make it an excellent choice for those seeking a luxurious lifestyle in one of Pakistan's safest cities. With a range of amenities and institutions in close proximity, residents can enjoy convenience and comfort while residing in this esteemed housing society.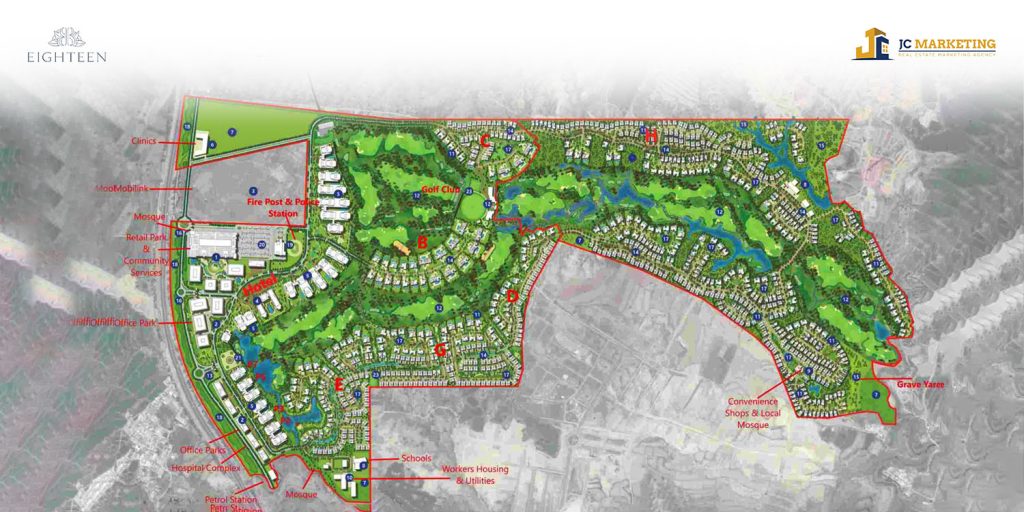 RDA Approval and Land Area
Eighteen Islamabad holds the distinction of being a society with complete legal compliance. The NOC for Eighteen Islamabad has been approved by the Rawalpindi Development Authority, ensuring that all the necessary regulatory requirements have been met. This approval covers approximately 700 acres of land, providing a vast and well-planned residential area for the community.
Approved Layout Plan and Authorities' Authorization
The layout plan of this remarkable residential project has received the seal of approval from the concerned authorities. This endorsement guarantees that the development adheres to the specified standards and guidelines. With an approved layout plan, Eighteen Islamabad offers a meticulously designed environment that prioritizes convenience, aesthetics, and functionality, creating a harmonious living experience.
Land Encroachment-Free and Legal Expansion
One of the key advantages of investing in Eighteen Islamabad is the absence of accusations regarding land encroachment and illegal expansion. The society's NOC-approved status ensures that every aspect of its development has followed legal procedures and safeguards. Investors can enjoy peace of mind, knowing that their investment is secure and free from any legal disputes or uncertainties.
The attraction for Residents and Investors
The NOC approval of Eighteen Islamabad plays a pivotal role in attracting both residents and investors. The assurance of legal compliance and RDA's endorsement instills confidence in potential buyers, who seek a transparent and reliable real estate investment opportunity. This NOC-approved community stands as a highly lucrative choice, offering a safe and profitable investment avenue.
Eighteen Islamabad Developers
Developed by Ora Developers, Saif Group, and Kohistan Builders & Developers, this revolutionary multi-billion dollar real estate venture is set to redefine luxury living in Pakistan. With a team of highly trusted and professional entrepreneurs from Egypt and Pakistan, Eighteen Islamabad Developers bring a wealth of experience and expertise to create an exceptional living experience in the capital city.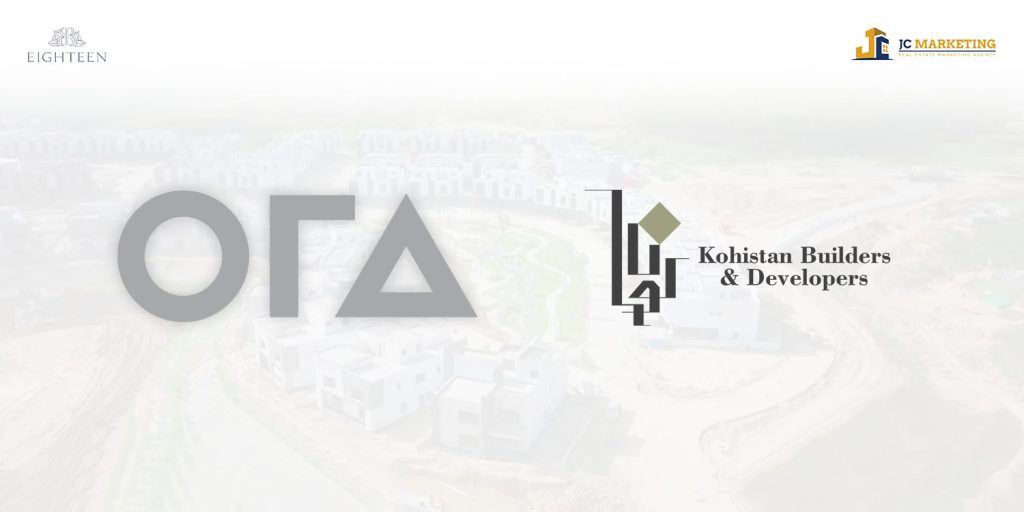 Ora Developers: An Established Name in Luxury Real Estate
Under the umbrella of Eighteen Developers, Ora Developers has a proven track record of delivering highly acclaimed projects worldwide. Led by Mr Naguib Sawiris, an Egyptian billionaire, Ora Developers has successfully undertaken prestigious ventures such as Grosvenor Square in London, UK; Ayia Napa Marina in Cyprus; and the 5-star Silversands Hotel in Grenada. With notable projects in Egypt including Nile City Towers and Pyramid Hills, Ora Developers is renowned for their commitment to excellence.
Saif Group: Trust and Reliability
Saif Group is a trusted name in the business and real estate sectors in Pakistan. With a strong reputation for reliability and professionalism, Saif Group has partnered with Ora Developers to bring their expertise and resources to the Eighteen Islamabad project. Their successful collaboration in the past, particularly with the Mobilink Telecommunications partnership, showcases their ability to deliver exceptional results.
Kohistan Builders & Developers: Local Expertise
Kohistan Builders & Developers, a prominent construction company in Pakistan, bring their local expertise to the table. With their understanding of the local market and construction practices, they play a vital role in ensuring the highest quality construction and development at Eighteen Islamabad.
Delivering Excellence: The Promise of Eighteen Islamabad Developers
At Eighteen Islamabad, the developers have committed to delivering the utmost quality construction and providing high-end services to all residents. With construction and development already underway, the developers are dedicated to completing the project promptly.
Backed by a team of highly qualified and experienced professionals, Eighteen Islamabad Developers are focused on creating a world-class living experience. The project aims to set a benchmark for luxury living in Pakistan, offering a secure and comfortable environment that surpasses all expectations. Residents can expect a luxurious and comfortable lifestyle that rivals the best societies in the country.
The Exquisite Projects At Eighteen, Islamabad
Eighteen, Islamabad is a prestigious real estate development that offers a range of exceptional projects within its sprawling community.
Eighteen can be subdivided into the following projects
The Heights at Eighteen
The Square at Eighteen
The Resort at Eighteen
The Villas at Eighteen
The Core at Eighteen
The Club at Eighteen
The Clinic at Eighteen
Each project within Eighteen showcases unparalleled luxury, modern amenities, and an unparalleled living experience. Let's delve into the details of each project, highlighting their unique features and offerings.
The Heights at Eighteen: Luxury Apartments with Panoramic Views
The Heights at Eighteen offer an exquisite collection of 900 elegantly designed apartments in 28 low-rise pavilion-style buildings. Each building features a maximum of seven floors, with each floor housing no more than four luxurious apartments. These thoughtfully crafted apartments provide residents with a picturesque view and a high standard of living. The Heights include studio, 1, 2, and 3-bedroom apartments, as well as 5-bedroom penthouses, all equipped with world-class amenities. With spacious kitchens, designated parking spaces, and the option for a servant quarter and powder room, these apartments offer the perfect blend of comfort and sophistication.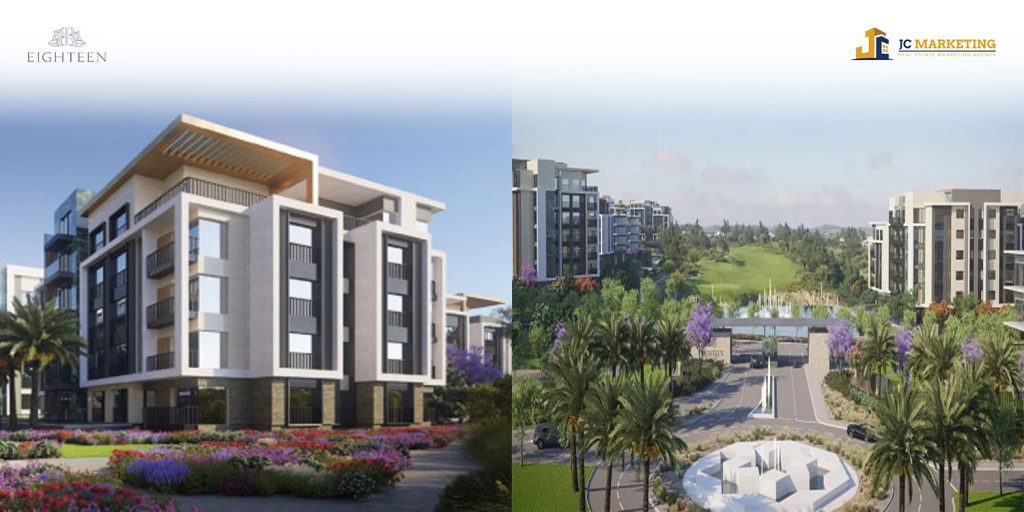 The Villas at Eighteen: Luxurious Homes amidst Natural Beauty
Designed to offer maximum comfort and privacy, the Villas at Eighteen provide a luxurious living experience amidst the captivating natural beauty of the housing society. With 1,068 units, these international-standard villas boast breathtaking views of the sprawling golf course and lush green hills. The well-designed layout includes three to seven bedrooms, spacious kitchens, a garage, a swimming pool, a terrace, and a servant's quarter, among other features. The Villas are available in various sizes ranging from 10 marlas to 8 Kanal, catering to diverse preferences and lifestyles.
The Square at Eighteen: High-End Shopping and Dining Experience
The Square at Eighteen is a prestigious high-end shopping center that features a collection of domestic and international brand outlets surrounding an open-air square at its center. With three levels, The Square offers a delightful shopping experience and a range of dining options, from fine-dining restaurants to casual coffee shops. This upscale retail destination caters to the discerning tastes of residents and visitors, providing a vibrant and stylish environment for shopping and leisure.
The Club at Eighteen: Unwind and Indulge in Luxury
Overlooking the expansive golf course, The Club at Eighteen serves as the hub of social activities and entertainment within the community. The Club offers breathtaking views of the surrounding hills, lakes, and fairways, creating a serene ambience for relaxation. Residents can enjoy gourmet meals, witness stunning sunsets from the terrace, and participate in a variety of leisure activities. The Club also provides sports facilities such as a swimming pool, yoga studio, cricket pitch, and squash court, ensuring a well-rounded and fulfilling experience.
The Core at Eighteen: Contemporary Business District
The Core at Eighteen is a state-of-the-art business district comprising 13 modern and well-equipped buildings. Strategically located in close proximity to the new airport, The Core offers convenient access for domestic and international business executives. This high-tech business district provides a dynamic and professional environment for various industries, fostering growth, collaboration, and success.
The Clinic at Eighteen: Onsite Medical Facilities for Residents
Caring for the well-being of its residents, Eighteen Islamabad incorporates The Clinic, a cutting-edge onsite medical facility. Equipped to handle both emergency and non-emergency cases, The Clinic ensures prompt and reliable medical assistance. With a team of skilled healthcare professionals and advanced medical equipment, residents can rest assured knowing that their health needs will be addressed efficiently and effectively.
The Resort at Eighteen: A Luxurious 5-Star Boutique Hotel
The Resort at Eighteen stands as a remarkable project within the community, offering a 5-star boutique hotel experience. With 150 beautifully decorated and lavish rooms, The Resort provides an unparalleled level of comfort and hospitality. The hotel is staffed by world-class hoteliers dedicated to ensuring a memorable stay for guests. Facilities include exquisite restaurants, a well-equipped gym, spa facilities, and event spaces capable of accommodating up to 1,000 people. Whether guests are seeking relaxation, indulgence, or a venue for special events, The Resort at Eighteen offers an exceptional experience that exceeds expectations.
Eighteen Islamabad, with its diverse projects, presents a comprehensive and well-planned development that caters to the needs and aspirations of individuals seeking a luxurious lifestyle. From the Heights' stunning apartments to the Villas' lavish homes, and from the Square's upscale shopping experience to the Club's vibrant social hub, Eighteen offers a harmonious blend of modern amenities, natural beauty, and world-class facilities.
Eighteen Islamabad Payment Plan
The project offers a range of payment plans to suit different needs and budgets. There is a lump-sum payment required while purchasing the developed property.
For units that are under development, installment plans are also available with deposits ranging from 15-20 percent of the total price. The remaining amount is payable in installments over 2-4 years depending on the type of unit purchased. Eighteen Islamabad also provides attractive discounts and other features such as early bird offers and double payments to make purchasing a property more affordable.
It is important to note that all payment plans can be tailored according to individual circumstances, so buyers should discuss their requirements with the developer before committing to any plan.
Currently,
are available in installments. The price ranges are given below.
–Price Range List – Residential Plots and Villas 2023
| | | | | | |
| --- | --- | --- | --- | --- | --- |
| Property Type | 0.5 Kanal Plot | 1-Kanal Plot | 2-Kanal Plot | 2-Kanal Core & Shell | 8-Kanala Core & Shell |
| Plot Size (Sq.ft) | 2358-3208 | 4695-5680 | 9079-10170 | 9689-10016 | 39159-42799 |
| Built-Up | N/A | N/A | N/A | 8519 | 14001 |
| Min Price | 35,490,000 | 72,380,000 | 150,490,000 | 243,210,256 | 391,680,000 |
| Max Price | 59,410,000 | 89,590,000 | 180,370,000 | 257,179,487 | 431,360,640 |
| Status | Available | Available | Available | Available | Available |
–Plots and villas updated rates
For plots, you have to pay 20% at the time of booking and the remaining in 8 equal quarterly installments.
–Price Range List – Residential Apartments 2023
| | | | | | |
| --- | --- | --- | --- | --- | --- |
| Property Type | 1 BR Apartment | 2 Br Apartment | 3 BR Apartment | 2-Bed-Penthouse | 5-Bed-Penthouse |
| GFA (Sq.ft) | 700-954 | 1611-1906 | 2047 | 2444 | 4415 |
| Min Price | 19,000,000 | 36,885,000 | 49,653,000 | 60,156,000 | 104,000,000 |
| Max Price | 26,700,000 | 41,989,800 | 52,146,000 | 60,156,000 | 4104,000,000 |
| Status | Sold | Available | Available | Available | Available |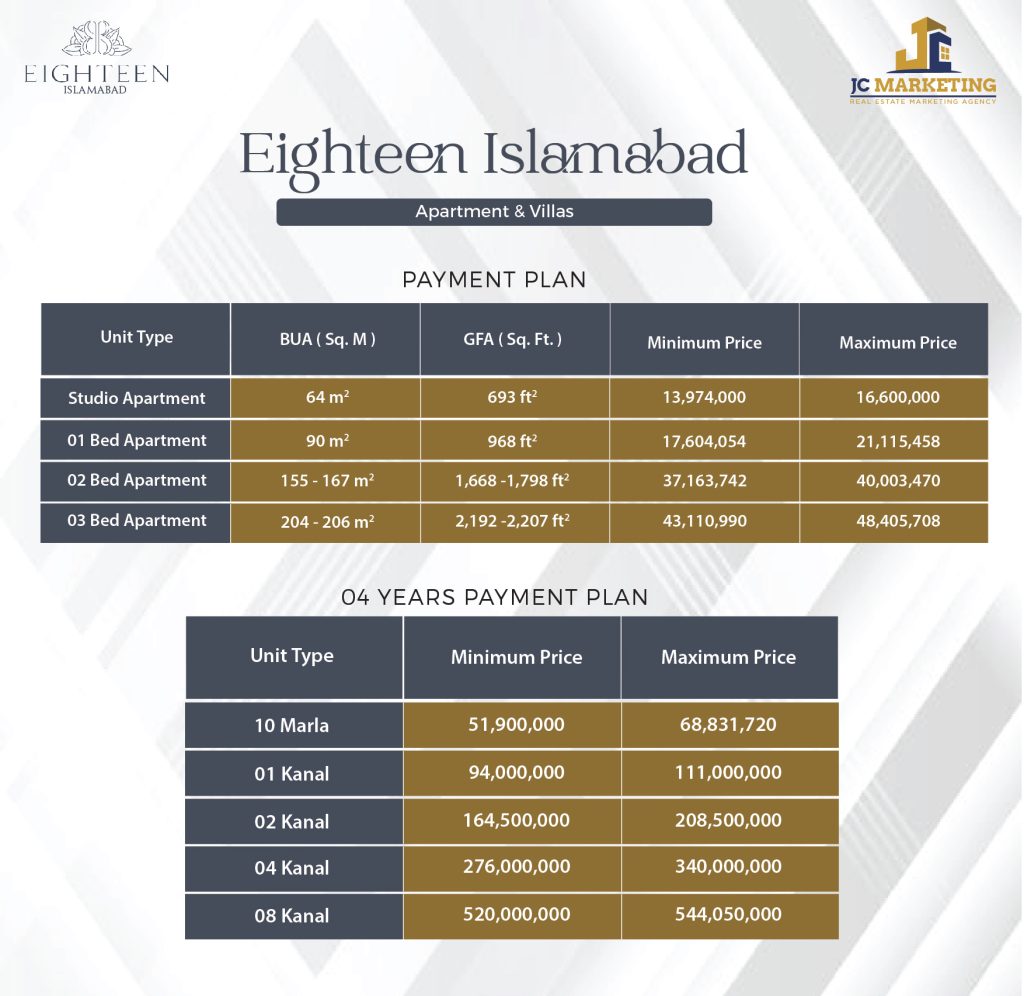 Contact # 051 2756536 / 0331-111-7575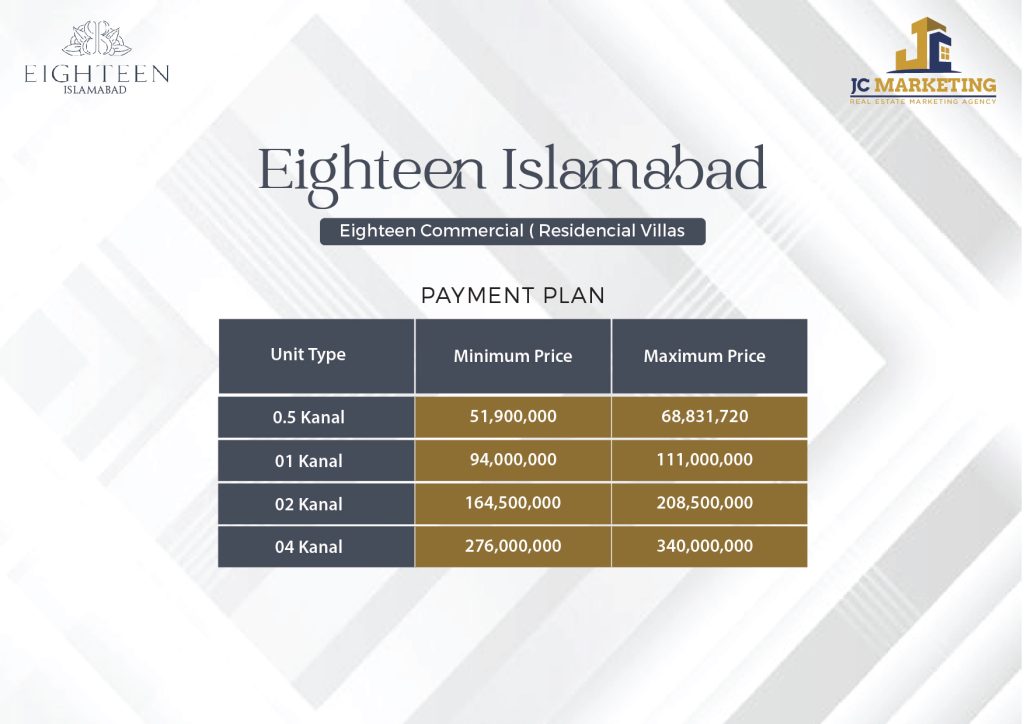 Contact # 051 2756536 / 0331-111-7575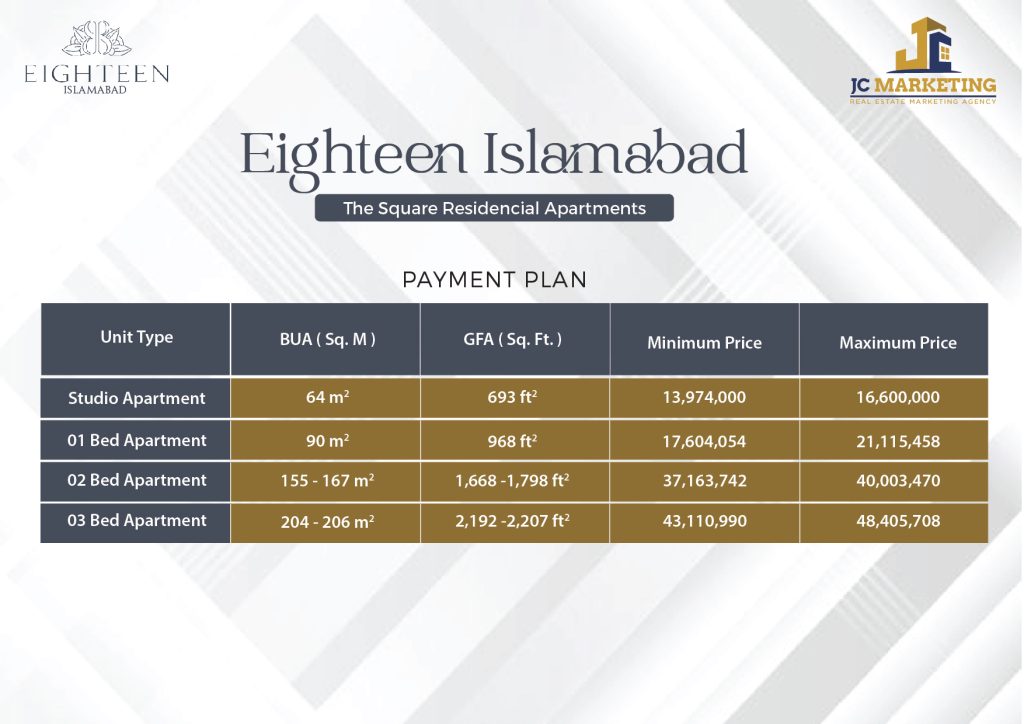 Contact # 051 2756536 / 0331-111-7575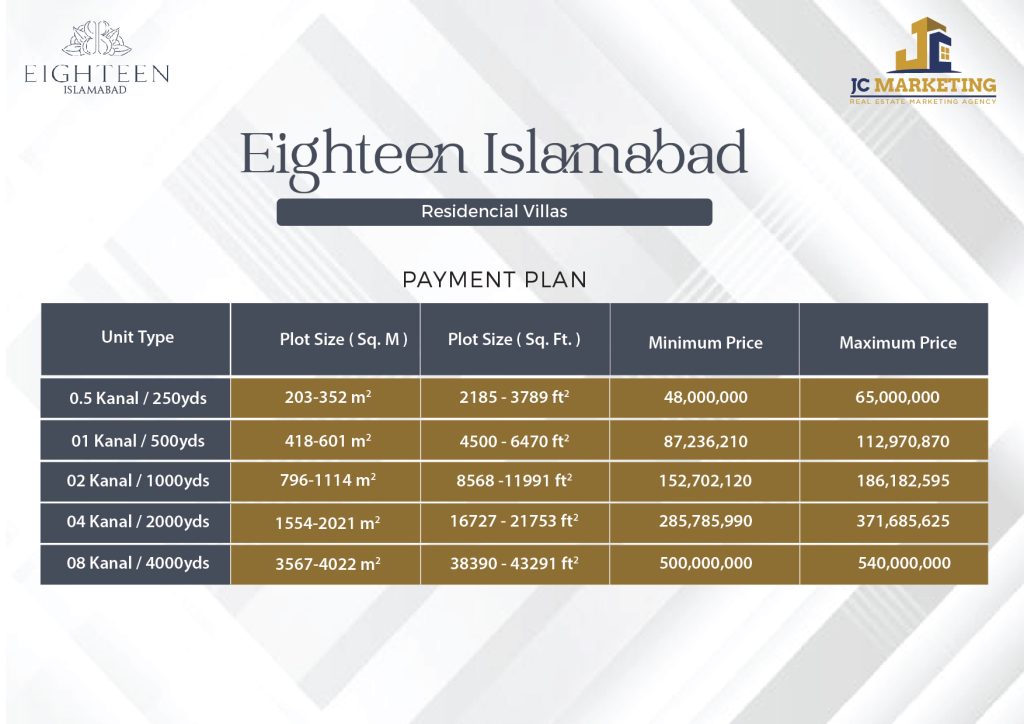 Contact # 051 2756536 / 0331-111-7575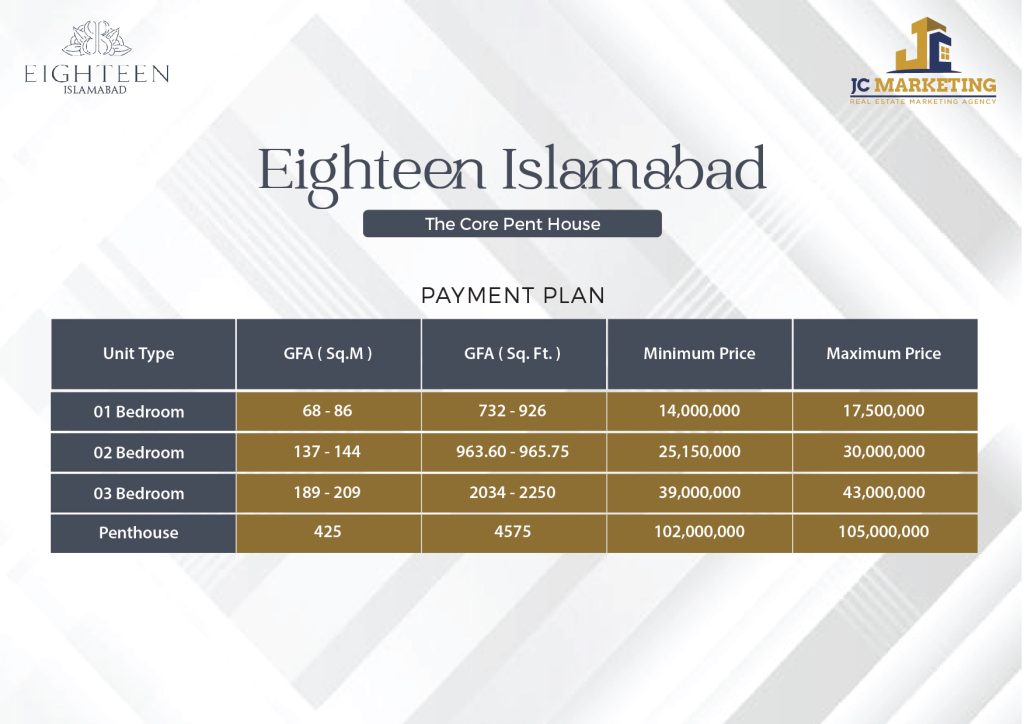 Contact # 051 2756536 / 0331-111-7575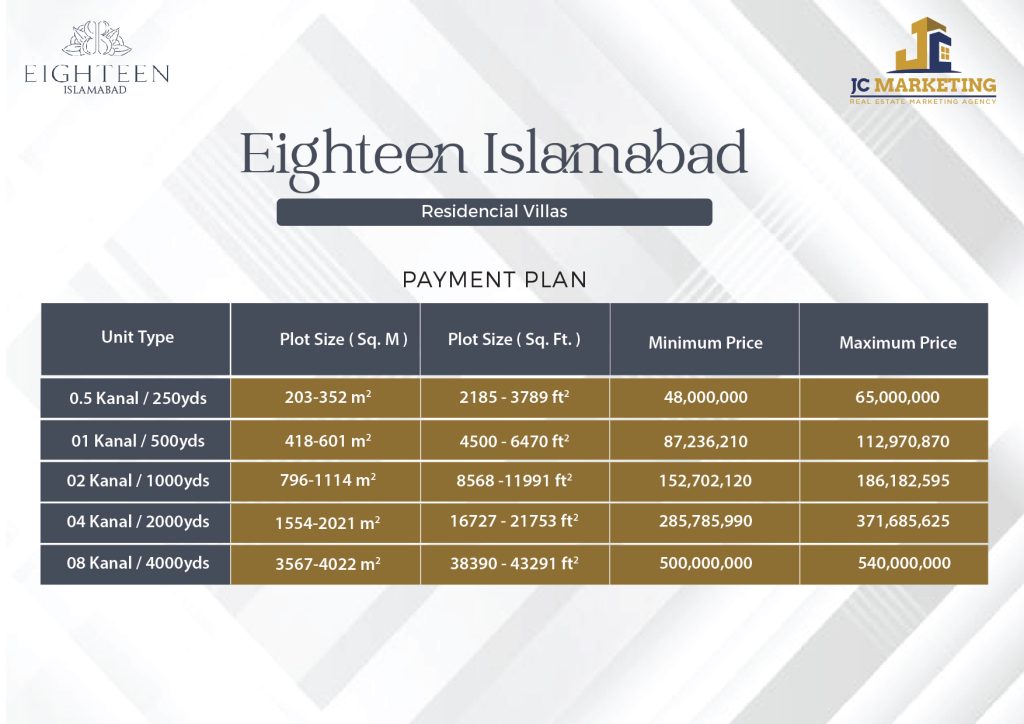 Contact # 051 2756536 / 0331-111-7575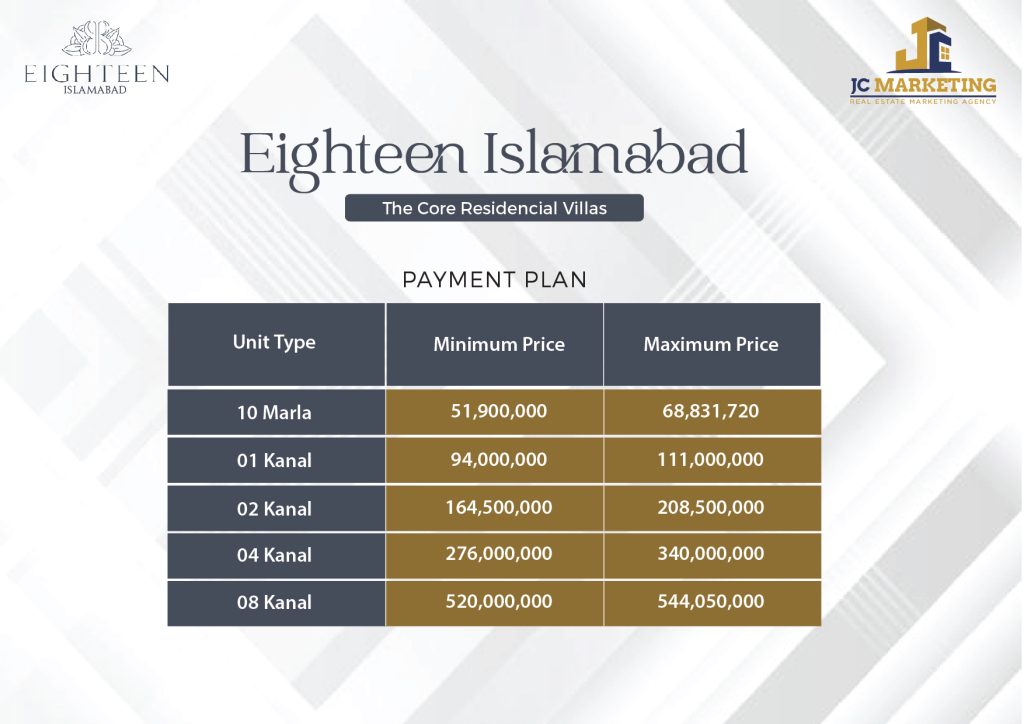 Contact # 051 2756536 / 0331-111-7575
Eighteen Islamabad Main Features: Luxury Living at Its Finest
We will explore the main features of Eighteen Islamabad, showcasing its commitment to providing a safe, secure, and lavish environment for its residents. Let's delve into the exceptional offerings of this sought-after housing community.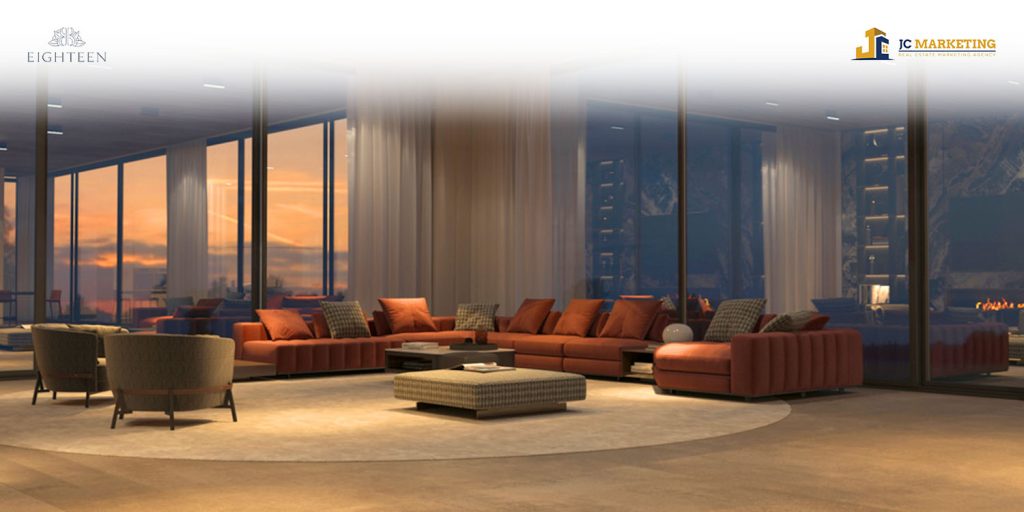 –A Vision of Modern Living
Eighteen Islamabad is a visionary project that aims to introduce an international standard of living in Pakistan. With futuristic infrastructure, world-class amenities, and an opulent environment, it caters to individuals seeking a high-end lifestyle experience. The development stands as a testament to modernity and luxury.
–Majestic Golf Course: Where Luxury Meets Recreation
One of the standout features of Eighteen Islamabad is its 18-hole golf course, offering residents a taste of contemporary living. Designed to international standards, the golf course provides a recreational space for golf enthusiasts and adds a touch of elegance to the community.
–International Standard Shopping Mall: A Shopper's Paradise
Eighteen Islamabad boasts an impressive shopping mall that houses high-end retail outlets. Residents can indulge in a premium shopping experience, accessing a wide range of luxury brands and enjoying a one-stop destination for all their retail needs.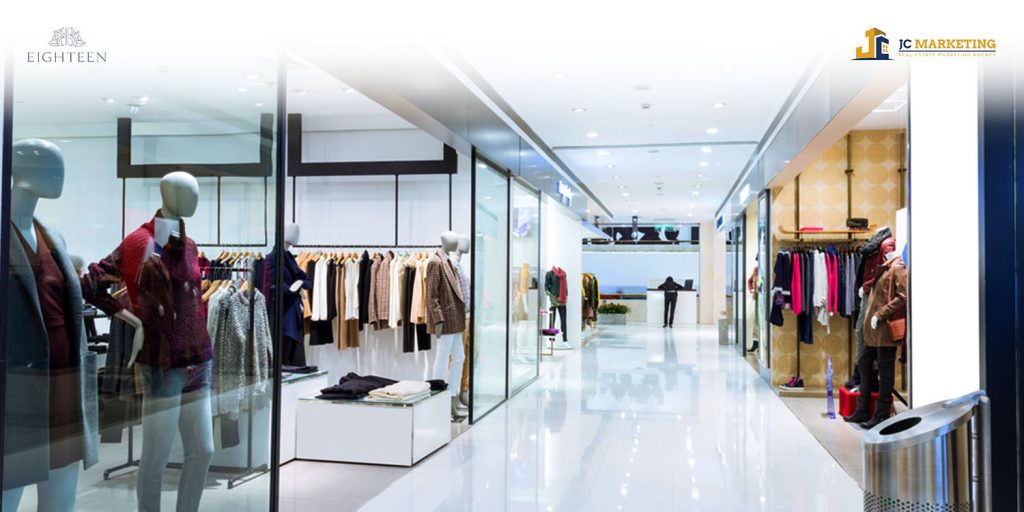 –Business District: State-of-the-Art Office Buildings
The development includes a sophisticated business district featuring state-of-the-art office buildings. This creates opportunities for professionals and entrepreneurs to establish their businesses within a thriving environment, fostering growth and productivity.
–Top-Notch Educational Institutes: Nurturing Future Generations
Recognizing the importance of education, Eighteen Islamabad incorporates international standard schools and colleges. Residents can ensure their children receive a quality education within the community, making it convenient and providing peace of mind.
–Well-Equipped Medical and Health Care Centers: Prioritizing
Wellness
To cater to the healthcare needs of residents, Eighteen Islamabad provides well-equipped medical and healthcare centres. These facilities operate round the clock, ensuring prompt and efficient healthcare services for residents' well-being.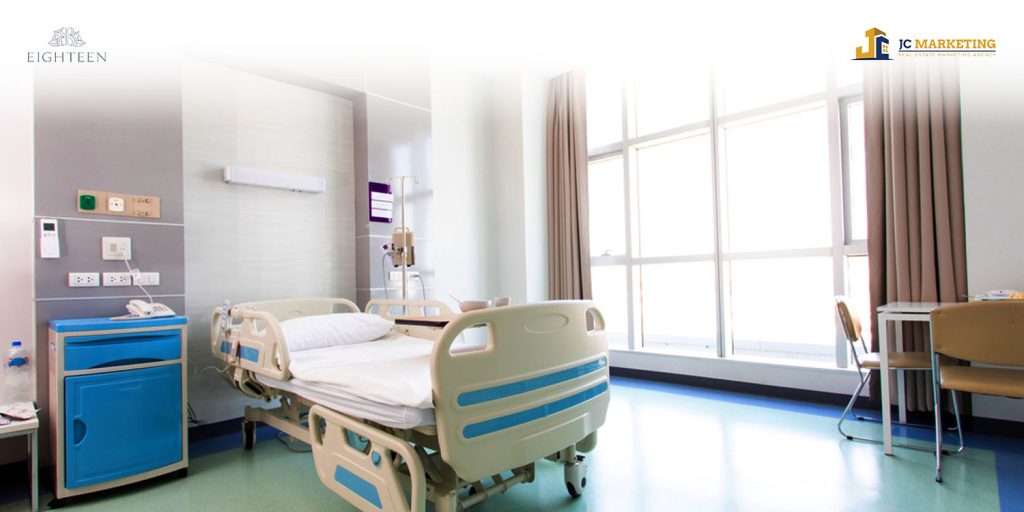 –Dedicated Green Spaces and Parks: Embracing Nature
Eighteen Islamabad values the importance of green spaces and parks, creating dedicated areas for residents to embrace nature. These lush green spaces provide a tranquil environment, allowing residents to unwind, exercise, and connect with nature.
–Properly-Designed Parking Spaces: Convenience at Your Doorstep
The development offers properly-designed parking spaces, ensuring convenience and ease of access for residents and their guests. Ample parking facilities eliminate the hassle of finding parking spots and provide a seamless experience.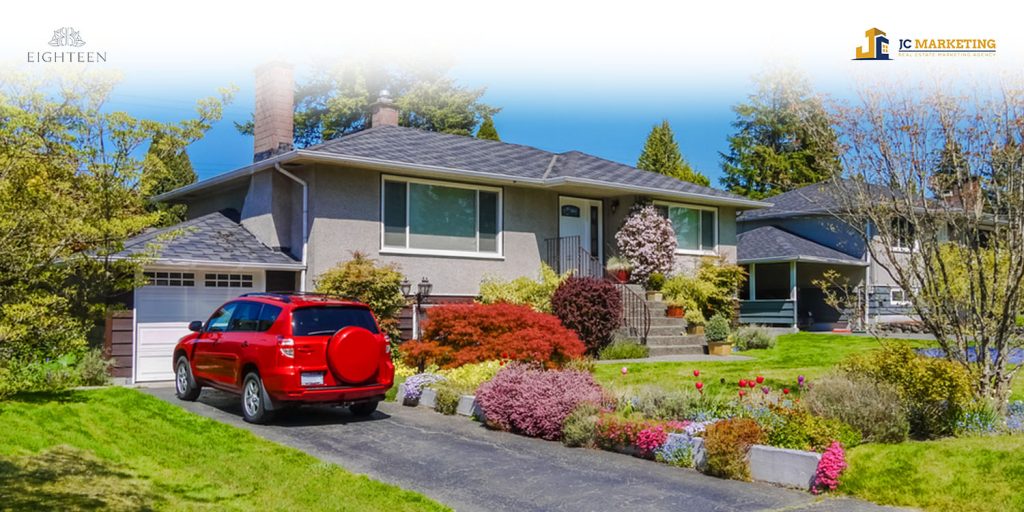 –Availability of All Civic Amenities: A Complete Living Experience
Eighteen Islamabad is committed to providing a complete living experience by offering all essential civic amenities within the community. Froma reliable water supply and a well-built sewerage system to a network of carpeted roads and water filtration plants, residents can enjoy a hassle-free and comfortable lifestyle.
–Safe and Secure Environment: Peace of Mind
Safety and security are paramount at Eighteen Islamabad. The community is equipped with 24/7 security and camera surveillance, ensuring the well-being of residents and their properties. With a safe and secure environment, residents can have peace of mind and enjoy a worry-free lifestyle.
–Luxurious Living with High Returns on Investment
Eighteen Islamabad's main features showcase a commitment to providing luxurious living spaces and world-class amenities. The meticulously designed golf course, international standard shopping mall, business district, educational institutes, healthcare centers, green spaces, and other facilities contribute to an exceptional living experience. Moreover, with its adherence to international standards and a focus on quality, Eighteen Islamabad presents an enticing investment opportunity with high returns.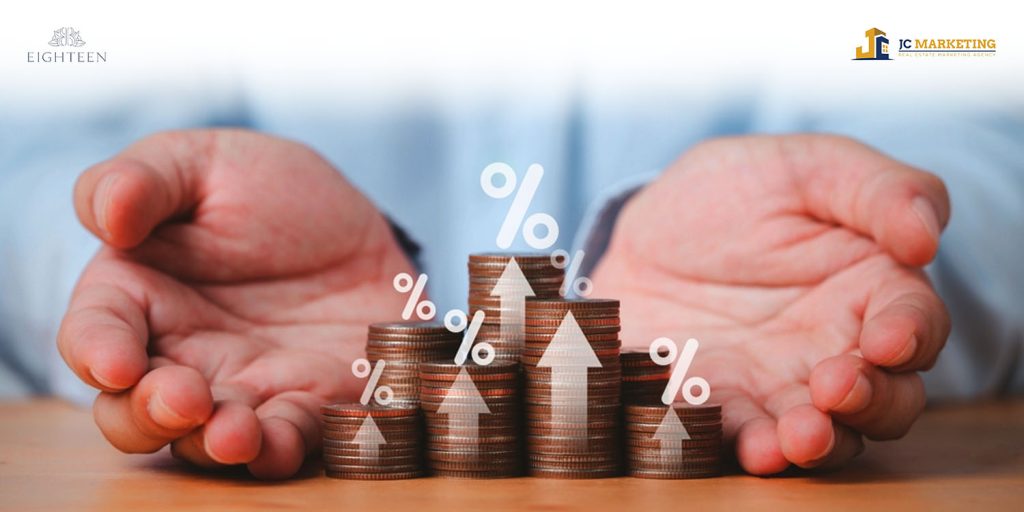 Eighteen Islamabad Development Status: Rapid Progress and Phased Approach
As one of the most ambitious real estate projects in Islamabad, Eighteen is making remarkable progress in its development. The construction work is being carried out in a phased approach, ensuring timely completion and delivery of the project's various components. Here is an overview of the development status of Eighteen, Islamabad.
–Phase 1: Residential Units
In the first phase of development, the focus is on constructing the residential units within the Eighteen community. This phase is progressing at a rapid pace, with construction work proceeding efficiently to meet the set timelines. The residential units, including apartments and villas, are being built with meticulous attention to detail, ensuring the highest standards of quality and luxury.
The development team is committed to completing the residential units within three and a half years. This aggressive timeline demonstrates the dedication and efficiency of the project's execution, ensuring that residents can enjoy their homes and experience the exceptional lifestyle promised by Eighteen.
–Phase 2: Commercial Units
Following the completion of the residential units, the second phase of development will focus on constructing the commercial units within Eighteen, Islamabad. These commercial units will include state-of-the-art office buildings, retail outlets, a shopping mall, and other commercial amenities. The development team recognizes the importance of creating a vibrant and thriving commercial district that complements the residential aspect of the community.
While the residential units take precedence in the initial phase, the development of commercial units will commence shortly thereafter. This phased approach allows for a well-planned and coordinated development process, ensuring that each component of Eighteen is meticulously executed and delivered to the highest standards.
–Continuous Progress and Commitment
The development work in Eighteen, Islamabad is characterized by continuous progress and a strong commitment to delivering a world-class community. The development team, comprising experienced professionals and renowned architects, is dedicated to creating a masterpiece that sets new standards for luxury living in Pakistan.
From the efficient execution of construction activities to the meticulous planning of infrastructure and amenities, every aspect of Eighteen's development is carefully considered. The team's commitment to quality, timely delivery, and attention to detail is evident in the rapid progress witnessed on-site.
Conclusion
Eighteen, Islamabad stands as a testament to luxury, elegance, and modern living. With its diverse range of projects, including The Heights, The Villas, The Club, The Square, The Core, The Clinic, and The Resort, Eighteen offers a lifestyle that is unmatched in terms of amenities and exclusivity. Whether you seek a luxurious apartment, a lavish villa, world-class retail experiences, business opportunities, comprehensive healthcare services, or a five-star boutique hotel experience, Eighteen has it all.
Embrace the epitome of luxury living and investment opportunities at Eighteen, where every detail has been carefully crafted to ensure an unparalleled living experience. Don't miss the chance to be a part of this prestigious development and secure your place in the epitome of modern living in Islamabad.
Don't miss the opportunity to be a part of this extraordinary lifestyle destination. Invest in Eighteen Islamabad and elevate your living experience to new heights. Experience luxury, comfort, and elegance like never before.