Lahore Smart City (LSC) has launched a discount policy. This is a landmarked achievement by the project, and investors and residents can benefit from it within a specific time. The discount policy for LSC has been launched by Future Development Holdings (FDHL) on August 18, 2023. The management offers a discount policy to help customers in this economic situation while delivering projects on time.
The second balloting policy of Lahore Smart City is excellent news for clients who missed out on the first-ever Balloting. Plot numbers will be allocated from September 18, 2023. FDHL has also provided a discount policy for Capital Smart City.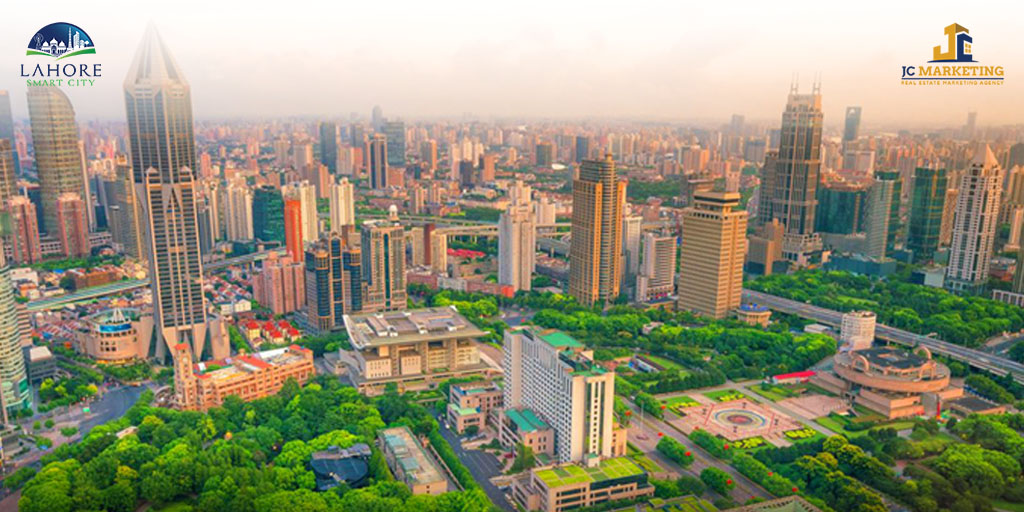 Lahore Smart City Discount Policy
The management of Lahore Smart City has announced a new discount policy applicable to due installments, advance installments, and new plot bookings, benefiting the customers. The discount policy is valid from August 21, 2023, to September 16, 2023. To receive the discount, pay your installments before the due date.
Discount on Due Installment
Lahore Smart City's management is providing a discount of 3% on outstanding or overdue installments for commercial and residential plots. This relief is aimed at helping customers make timely payments.
Discount Policy on Advanced Installment
Lahore Smart City's new discount policy is also valid for the advance installment. You can get up to 6% concession on each installment of residential and commercial plots in society. Moreover, the customers can get a 6% discount on a maximum of 3 installments of plots.
Discount Policy on Booking New Plot 50% Down Payment
At Future Development Holdings Limited, customers have the option to book new plots in Lahore Smart City. If you choose to purchase a plot with the assistance of Lahore Real Estate and make a 50% down payment, you can receive a discount of up to 7%.
Discount on Booking New Plot 100% Downpayment
If you're interested in making a fresh booking in Lahore Smart City, you might want to take advantage of their new discount policy. By making a 100% payment as a down payment, you can receive a 12% concession on your purchase. This is an excellent opportunity to save money during a time of inflation.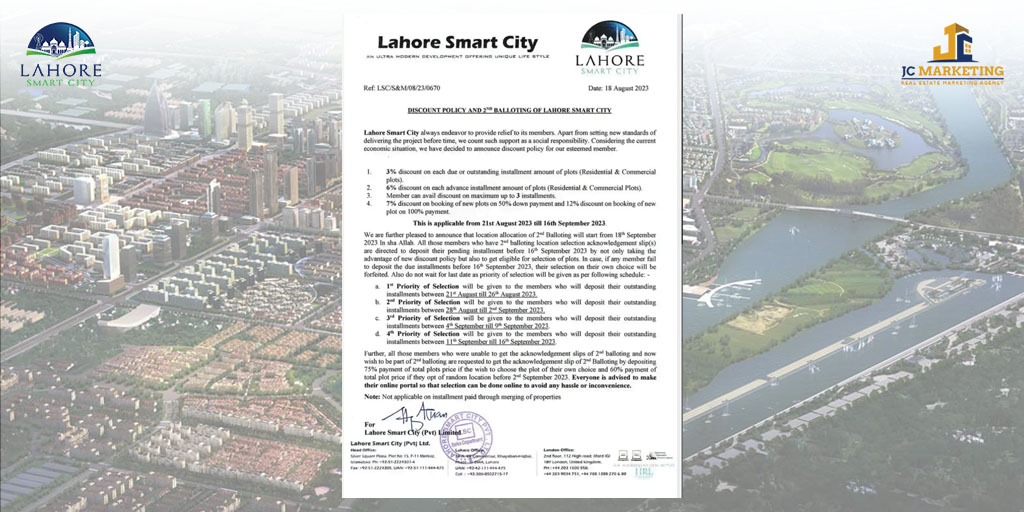 Lahore Smart City Second Balloting Policy
Lahore Smart City is a well-known development that offers various policies to its customers that create a sense of interest among customers and investors. Recently, they announced that they will be conducting the 2nd Balloting of Lahore Smart City to allocate the plot numbers to their customers. This process will allocate plot numbers to the members of the society. The 2nd Balloting defines the eligibility criteria and terms and conditions for plot allocation. We take it upon ourselves to keep our users informed about the details of this event.
Policy on Inclusion in 2nd Balloting
The management has announced that members who have made 60% of their payment will be eligible for the second Balloting of Lahore Smart City. To participate in the Balloting, you must clear at least 60% of your reserved plot payment. The Balloting will commence on September 18.
To take advantage of the discount policy while participating in the Balloting, it is recommended that you clear your dues before September 16. You must pay the minimum required amount of 60% before participating.
Policy on Location Allocation
Customers must obtain the acknowledgment slip for the 2nd Balloting process by making a payment of 75%. This will allow them to select their preferred location for plot allocation. Additionally, to take advantage of the Lahore Smart City discount and second balloting policy, you must settle any outstanding dues before September 16.
Balloting Policy for Members Without Acknowledgement Slips
To participate in the 2nd Ballot, members who do not have acknowledgment slips must obtain them from the management. The second balloting policy for Lahore Smart City states that members must pay 60% for plot allocation and 75% for plot selection. The society's management advises customers to check the Balloting online through their online portals to avoid any issues. This way, you do not need to visit the site for the balloting process, as you can participate in LSC e-balloting.
How to Check Lahore Smart City 2nd Balloting Results?
If you want to check the balloting results for Lahore Smart City, the online portal is the ideal platform to use. Whether you're on your mobile or desktop device, you can easily access the official website and view the results. This makes it a convenient option for overseas Pakistanis as well.